Why you should consider seasonal Nutrition?
Precision Nutrition to improve aquaculture production and boost digestion.


Being cold-blooded aquatic animals, fish need special care during the winter. Fish feeding in the winter season, when water temperatures drop, can be challenging.

In cold water, trout become less active and feed intake and metabolism are impaired.
"It is challenging to achieve reasonable growth with these extreme low water temperatures

. You have to do everything so that the fish just grows better."

– Andreas Hofer, Kärnten Fisch
How do water temperatures impact digestion and growth efficiency?
In farms, growth is desirable throughout the year, including the colder months. However, seasonal changes influence on-farm performance. As mentioned, trout slow down their digestive systems and fat digestion, becoming less efficient. This is in line with the trout's natural lifestyle in which very little food is available during the winter period.

Feeds that do well in summer often fail to give good results in winter. Since the fish's metabolism slows down in cold water, it takes a long time for trout to digest a meal, which can take up to a few days. A high feed rate overloads the digestive tract, and the trout is less capable of digesting it efficiently. This leads to a poorer FCR (Feed Conversion Ratio) and more excrement, which may be visible to the farmer in the form of a higher degree of pollution, especially on farms with restricted water availability.
Fish need extra care during these periods of cold water temperature.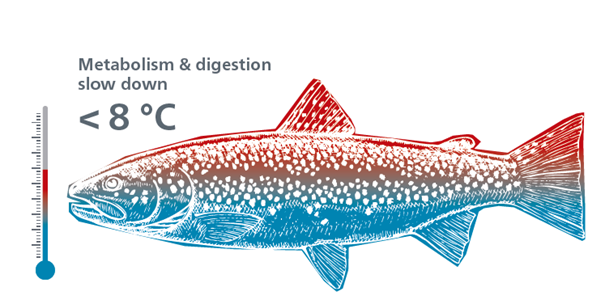 The Hofer family is constantly modernising and expanding their farms. They grew from 20 tonnes per year to 220 tonnes. They farm several salmonid species, like rainbow trout, salmon trout, brown trout, brook trout, arctic char and Carinthian Låxn. At their farm in Feld am See, they process and sell the fish directly to consumers.
Innovating research insights
At Alltech Coppens, we aimed to develop a trout feed concept that allowed optimal digestion, health and performance during very cold periods. Our experts at the Alltech Coppens Aqua Centre understand the effects of temperature on feed intake and the ability of trout to digest feed in these conditions. After extensive research, we have managed to improve fat digestibility in very cold water and match the trout's changed requirement for essential fatty acids.
Improved fat digestibility formula
It is important to make sure that the feed is highly attractive and palatable to the trout so that the fish immediately reacts when feeding starts. For this purpose, the R&D team at Alltech Coppens has done feed trials to investigate the palatability of different ingredients so that the right combinations can be made, in addition to meeting the nutritional requirements.

Fat digestion is determined by four factors:

Feed that matches the changed requirements of the fish should provide:
Improved digestibility in cold water - less pollution
Enhanced fat and protein utilisation

Good feed intake - highly palatable
Increasing biomass - stronger fish, spending less energy on coping with temperature fluctuations
"Since using Alltech Coppens feed, which is adapted for cold water temperatures during winter, we saw significantly improved production. The fish are more eager to eat and grow better.

We believe that this is the crucial point: we have to make much better use of these winter months.We have now switched our entire production to Alltech Coppens feed. This feed is ideally suited for us - we really got growth over the winter, over these difficult winter months, which we actually didn't have at all before."

- Andreas Hofer, Kärnten Fisch