Trout Feed
Our trout feeds guarantee unparalleled and efficient growth while minimizing the impact on the environment. Some of our products are extremely well-suited for aquaculture produced in Recirculating Aquaculture Systems (RAS).
What to know about trout
There are numerous differences among the various species of trout. In general, trout are torpedo-shaped fish with dark grey or green backs and silvery sides dotted with small black spots that, in some cases, continue onto their fins. Their bellies are whitish in colour. This camouflage pattern serves them well in the crystal-clear, gravel-bottomed streams in which they often live. As they grow older, especially when they mature, trout will develop a more pointed snout and changes in the colour of their skin.
Trout are cold-water fish and are commonly farmed in colder parts of the world. They require water of exceptional quality that is rich in oxygen. The most widely farmed trout species is the rainbow trout. Other well-known trout species include Brown trout, Arctic char, Brook trout and Hybrid char or Sparctic char.
Feed for optimal growth performance
Exceptional conditions must be constantly maintained for successful trout production, with sufficient oxygen provided for the trout to eat and digest their feed well. Feeds should be chosen based each farm's unique potential and circumstances. Alltech Coppens offers a selection of feeds to suit all types of trout farming, including RAS, intensive, semi-intensive and traditional farming for trout in each life stage. Devising a feeding strategy is important for achieving successful aqua production, too. It is crucial to feed fish just enough to achieve a high growth rate and a low Feed Conversion Rate (FCR) — but not too much, as overfeeding leads to feed spilling.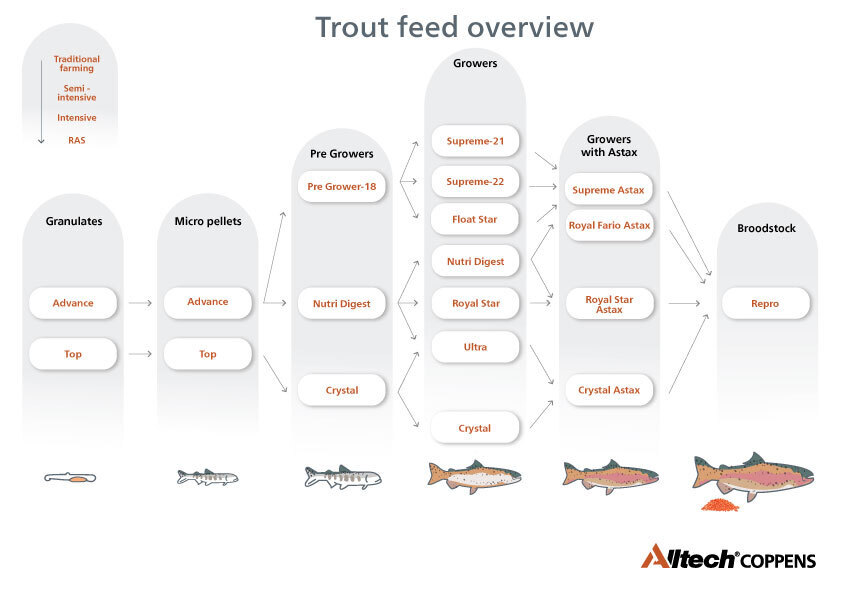 Trout feed overview: This flow chart illustrates the feeds that are most suitable for your farm based on the life stage of the fish. The closer to the bottom of the chart a feed is listed, the more likely that feed is to be suited for intensive trout farming.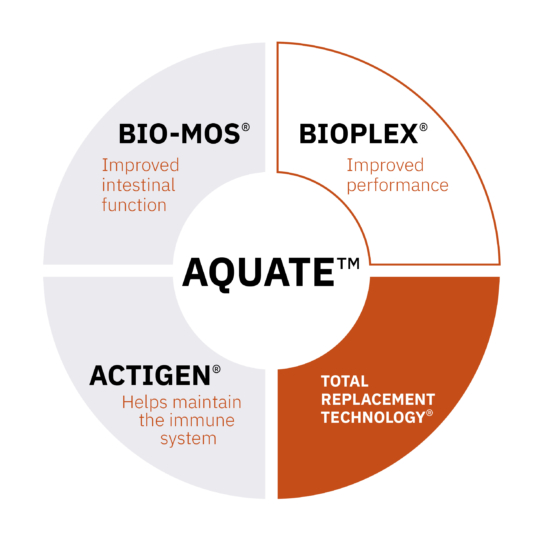 Healthy pellets for your Trout
Aquate™ health pack
By incorporating Alltech's Aquate technology into our formulations, we nurture a healthy gut microbiome for optimal nutrient digestibility, boosting fish health and ultimately contributing to better farm performance. Aquate contains several yeast-based products, such as Bioplex®, Bio-Mos® and Actigen®.
The inclusions of these solutions support the efficient uptake of the dietary micronutrients that are vital to building and developing a healthy skeletal structure and a robust immune system to combat pathogenic problems.
The inclusion of Aquate in aqua culture farming safeguards the healthy growth of trout from hatch to harvest.
Producing high-quality trout feed
Research and development
With 30 years of experience, developing and producing high-quality trout feed, Alltech Coppens offers on-farm assistance through our dedicated sales team and technical sales support services, helping ensure optimal farm performance. The Alltech Coppens team studies aquatic species and formulates our aqua feeds at our research centre, the Alltech Coppens Aqua Centre (ACAC).
Alltech Coppens formulates feed on the 4 Pillars of Fish Nutrition: Palatability, Performance, Pollution Control and Planet.

Palatability
To ensure the top growth and performance of trout, optimal feed intake is vital. To achieve this, trout must be attracted to the smell and taste of the feed.
Performance
Trout feed must perform well for the trout themselves to perform well, making feed a decisive factor in the profits of trout fish farmers. To foster high performance, trout feeds must generate healthy growth and ensure efficient feed utilisation.
Pollution Control
To maintain water quality and achieve optimal fish health and performance, it is crucial that all of our trout feeds are highly digestible, thereby decreasing the risk of pollution.
Planet
The environmental sustainability of trout feeds is becoming increasingly more important to trout farmers.