Take control of the planet
The 4 Ps of next-generation aquafeed formulation
Feed accounts for more than half of the cost on fish farms, with raw materials representing 70–80% of it. These materials, like fish meal and other marine resources, are typically seen as the "gold standard" used in fish feed. They are high in essential fatty acids like EPA and DHA, they have the right amino acid pattern and their taste appeals to all fish species. However, the "gold standard" tag may be under threat. The quality of raw materials can differ depending on fish species, fishing season and origin. On top of this, there is not enough fish meal to fulfil the current growth of the aquaculture industry, meaning the price and availability is volatile.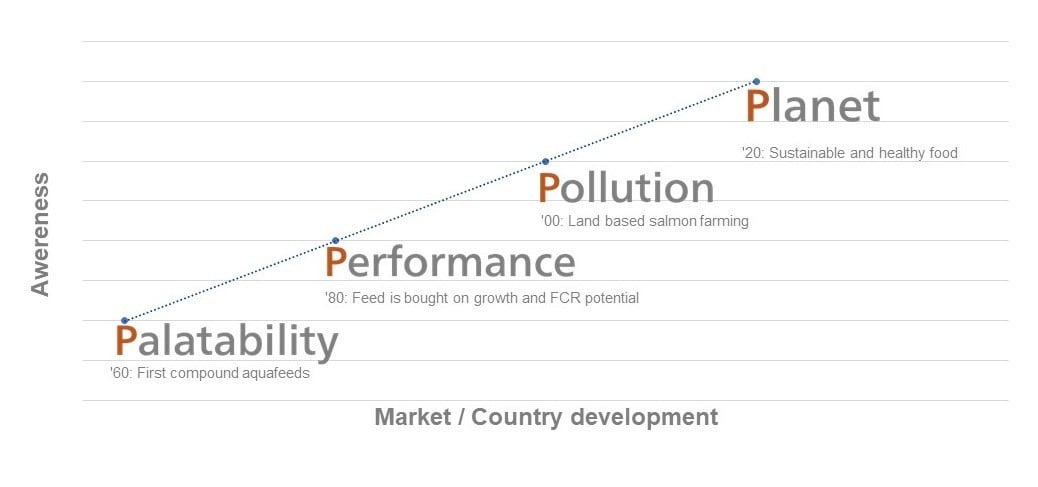 Urgent need
Knowing this, it is clear that there is an urgent need for more flexible use of the available raw materials in the aquafeed industry. In the last 10–15 years, the industry has focused on finding alternatives for fishmeal. We believe that focus should instead be aimed at finding complementary raw materials that, when combined with fish meal, lead to even better performance. When we can find an ideal way of quantifying the potential of these alternatives, we can use and combine them correctly. Quantifying sounds easy, but it is not only the growth and feed conversion ratio that is commonly considered important for a good fish feed. Feed intake, water quality, health and carbon footprint also need to be accounted for in the formulation. To complicate things further, the importance of these quality indicators depends on the market, fish farmer and consumer of the fish.
4
P

's

Alltech Coppens has developed a method of quantifying these quality indicators, categorizing them within the 4 Ps. These categories are measurable and significant for optimal-quality fish feed. By quantifying the 4 Ps in the available raw material and defining the needs of the market, fish farm and consumer, we are able to design a more flexible feed. Our combination of fish meal and complimentary raw materials also allows us to define a new "gold standard."
Planet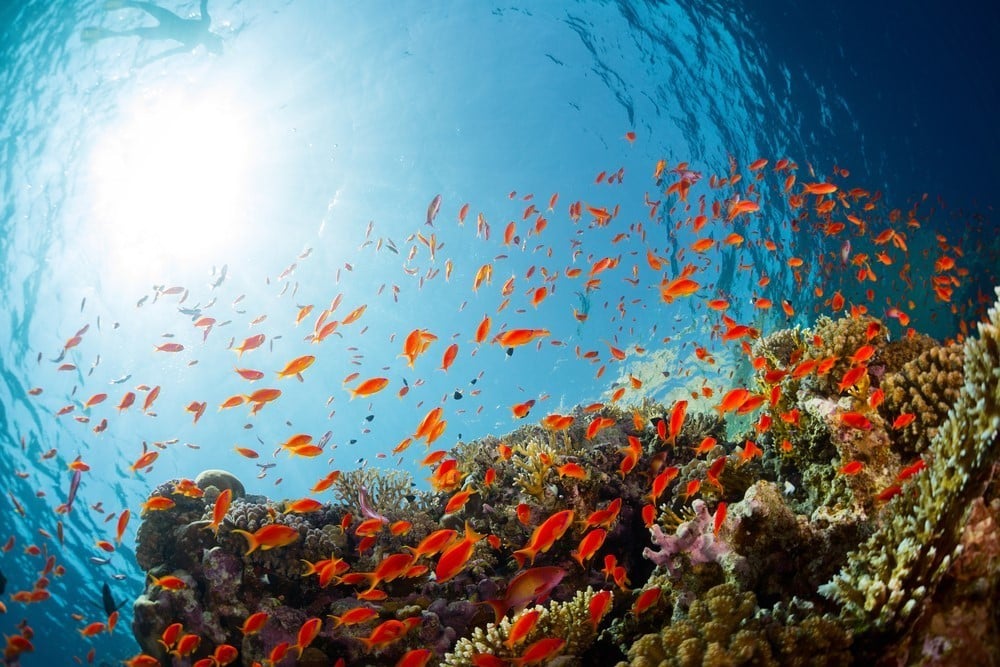 In modern aquaculture, the quality of fish feed is not only determined by its impact on the fish (i.e., Palatability, Performance and Pollution Control). We also consider the effect that the feed has on the Planet, the fourth and final P. While it was once seen as a luxury to produce, buy or use sustainable products, it is now a necessity if we want to stabilize the negative effect of our industry on the planet.
It is again by quantifying this effect that we can work towards more sustainable products. The two most obvious indicators for this are the FIFO factor (fish in/fish out: The amount of wild-caught fish needed to produce farmed fish) and carbon footprint. The global FIFO factor for our industry is 0.27, which means we only need 270 grams of wild-caught fish to produce one kilogram of farmed fish.
However, quantifying the FIFO factor and carbon footprint does not give a complete overview of feed's environmental effect. We also use LCAs (life cycle assessments) that take into account the material input, emission, land use, energy input, by-products and waste. By looking at these, we are able to quantify the total sustainability of a feed, and its effect on our precious planet.
"Planet can be quantified by the FIFO factor, Carbon footprint and LCA of the feed."

Alltech Coppens believes that by doing more and more research, improving business practices and embracing innovation, we can contribute to support our Planet.
We are joining the growing number of organizations around the world that are united by a passionate commitment to build a more sustainable future for our planet. As part of this commitment, we will focus on the following United Nations Sustainable Development Goals: Zero hunger, Climate action, Life below water and Quality education.
Zero Hunger
There needs to be a profound change in the current global food system. Over 800 million people worldwide are malnourished or living in hunger, and the global population is expected to increase by another 2 billion, each of who will need to be fed. Alltech Coppens wants to play a part in solving the hunger problem around the world.


Quality Education
Over 250 million children and adolescents remain out of school, and over 600 million do not have proper reading or mathematics skills. We want to make sure everyone has the recourses to get a decent education.


Climate Action
We need to reduce global carbon emissions by 45% if we want to limit global warming to 1.5 degrees celcius. Alltech Coppens is working hard toward developing sustainability practices that help in the fight against global warming.


Life below water
Of all the living space for organisms on our planet, 99% is below water. Life below water can also provide us with an abundance of food and resources if managed sustainably. This is why Alltech Coppens wants to be one of the frontrunners in saving life below water and making sure that aquaculture not only preserves life but also ensures that we have enough food to feed all the people on our planet.